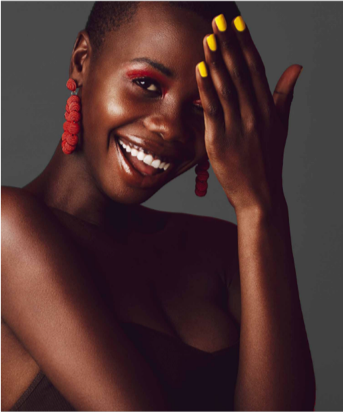 TIME FOR A MANICURE
First, you should properly remove any old nail polish on your nails. Doing this will be much easier right after a shower as your cuticles and the old nail polish will become softer.
After softening your cuticles by taking a shower or soaking them in water, push them back with a wooden cuticle pusher. If you don't have a wooden cuticle pusher, you can use the sharp tip of a nail file. However, you should ensure that the file tip is not too sharp and use it gently.
At this point, you can either apply a nourishing oil on the cuticles or go one step further and cut them with cuticle scissors. Cutting the cuticles will require them to be regularly cut in the future as well. You should be aware of this necessity before cutting them.
The next step is shaping the nails. Since there are many different trends in nail fashion, this can be a very difficult decision to make. In addition to oval and squared oval, which are trends of the past, you can also choose the almond, ballerina and stiletto trends.  The point here is to choose a shape that is suitable for your nail type.
The last step involves buffing the surfaces of the nails with the soft side of a nail buffer and shining the nails with the other side of the buffer. This step will ensure for your nails to look glossier and smoother. Since nail polish prevents air from getting to the nails, it is possible for the nails to turn yellow and flake, particularly in constant nail polish use. This step can help you eliminate the flaking as well. If you are using a metal file, you should avoid filing the surface of the nail.
After finishing your manicure, don't forget to moisturize your hands and nails with hand cream!
NAIL POLISH TRENDS
We are now at the final step and the step which is the most fun. For daily use, you can choose nude nail polish shades. These will both fit all your outfits and make you look very elegant. You may want to check out shades 09 and 30 of the Alix Avien Paris nail polishes. These long-lasting nail polishes will also provide you with convenience in a busy work schedule.
Red and burgundy nail polishes, on the other hand, will provide a feminine and captivating effect. You can pick the prettiest of these shades, which are also our favorite and very popular with Alix Avien Paris nail polish fans, from the 16-23 range of shades. The will look very nice with brown leather boots and a tobacco colored coat. We recommend shade 16 for the best choice in red. This beautiful product which suits all skin colors will make you very happy with its long-lasting color. You can visit the matte lipstick category for a red lipstick shade that goes with your nail polish.
For French manicure, which is indispensable for special occasions, you should always have the Alix Avien off-white shades 02 and 03.