A PORCELAIN SKIN
A key point in winter makeup when using foundations or lighter concealers is to apply the right shade and amount of product to make the skin look youthful and vibrant.
You can use the ultra-light Alix Avien Paris CC Cream for this. CC Cream, which also provides a choice for sensitive skin, has a formula that is absorbed quickly and moisturizes the skin when it becomes dry following hours in the cold. Without requiring an extra product, it evens out the skin tone and provides a radiant appearance. With a SPF of 15, it also protects your skin from the strong rays of the sun in winter.
RADIANCE IN THE EYES
The products to choose for crowning the beauty of eyes, the windows of the soul, are an eyeshadow rich in pigments and a waterproof mascara. This is because cold and dry air makes the eyes water and causes the mascara to run as a result. This, in turn, impairs your flawless look and leads to dark smudges under the eyes. While applying day or night makeup with the range of colors on our Alix Avien Paris Creamy Eyeshadow Palette which we know you will love, you won't believe the volume Alix Avien Paris Waterproof Mascara gives to your eyelashes. The flexible and curved brush of this mascara helps you use it easily with both hands and gives your eyes a striking look.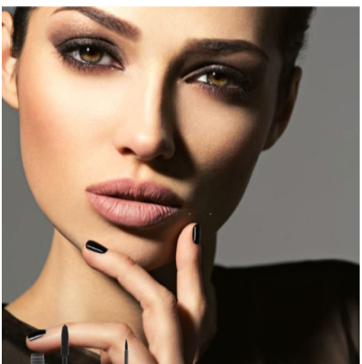 MOISTURIZE YOUR LIPS
The next step is choosing a lipstick. One of the biggest problems we have during winter months are dry and cracked lips. You should choose a lipstick which keeps the lips from drying and moisturizes them all day long while being long-lasting at the same time. A lipstick that stains your scarves and coats can dampen your spirits.  For this purpose, shade 01 of our Matte Liquid Lipstick series will provide your lips with an appealing nude look while shade 205 of our Matte Lipstick series will become an indispensable part of your night make-up.
THE RIGHT BLUSH FOR YOUR SKIN TONE
A blush that is suitable for the skin color is the most important factor in completing makeup. For natural-looking winter makeup, the blush needs to be in a very light shade. You can choose shades of light pink if you have light skin and shades of peach if you have darker skin. For this purpose, we recommend the Alix Avien Paris Blush On series with its silky-soft and smooth texture.
Alix Avien Paris Terracotta Blush On is also one of the products you should absolutely have in your make-up bag to eliminate red skin caused by cold weather and achieve bronze, appealing look.
ALİX AVİEN PARIS MAKEUP BRUSHES FOR A FLAWLESS TOUCH
You can complete your entire make-up with Alix Avien Paris Brushes which have high-quality, dense bristles. These are make-up brushes that eliminate makeup errors and make it easier to apply makeup at a high-quality level. Depending on your needs, you can add our high-performance brushes to your make-up routine and use them in all make-up sessions.